National Pancake Day. Free Pancakes at IHOPs
You may think last Tuesday was Shrove Tuesday, aka Pancake Day, and you'd be right, but that doesn't mean today can't also be National Pancake Day, at least according to the International House of Pancakes. They're international, so they can make national days on a whim like that.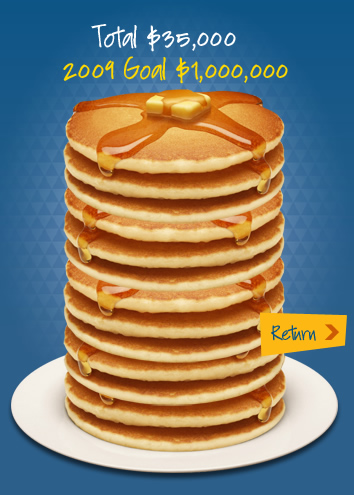 What does National Pancake Day mean? It means pancakes, man! From 7 a.m. to 10 p.m. at IHOP locations you can get a free short stack of buttermilk pancakes. In exchange they would like you to make a donation to support children's hospitals. Sure, you don't have to, but what are you, a pancake mooch?
So what's the best way to commemorate the occasion, you know, other than eating pancakes? Rolling out a list of pancake world records, because people like world records. They totally shame county records. Read on for the most notable:
Tallest Stack of Pancakes:
29.5 inches. Sure, it doesn't seem like much, but have you ever measured pancakes? There were 672 pancakes in that stack which took 100 eggs, more than 17 pints of milk, 11 lbs. of flour and 6.6 lbs. of butter to make.
Most Famous Pancake on the Internet:
Bunny Oolong. Oh, that's right. It's the bunny with a pancake on its head. Sadly, Oolong (the pancake bunny) passed away seven years ago, but his memory lives on.
Largest Pancake:
3 tons. It was 49 feet wide, 2.55 inches thick and contained 2 million calories. That's gotta be at least four Big Macs.
Source: asylum.com