Apple Bans Some Apps for Sex-Tinged Content
Apple has started banning many applications for its iPhone that feature sexually suggestive material, including photos of women in bikinis and lingerie, a move that came as an abrupt surprise to developers who had been profiting from such programs.
The company's decision to remove the applications from its App Store over the last few days indicates that it is not interested in giving up its tight control over the software available there, even as competitors like Google take a more hands-off approach.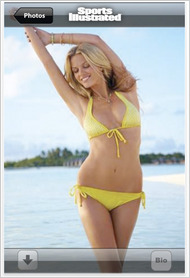 When asked about the change, Apple said it was responding to complaints from App Store users.
Philip W. Schiller, head of worldwide product marketing at Apple, said in an interview that over the last few weeks a small number of developers had been submitting "an increasing number of apps containing very objectionable content."
"It came to the point where we were getting customer complaints from women who found the content getting too degrading and objectionable, as well as parents who were upset with what their kids were able to see," Mr. Schiller said.
Among the victims of the purge was a game called SlideHer, a puzzle that challenged users to reassemble a photograph of a scantily clad actress. Another, Sexy Scratch Off, depicted a woman whose dress could be whisked away at the swipe of a finger, revealing her undergarments. Such programs often appeared on the store's list of most-downloaded apps.
Analysts said Apple appeared to be trying to ensure that the App Store would not scare off potential customers as its products become more mainstream.
The iPod Touch is popular with children and teenagers. And the company is hoping that the iPad, due out next month, will be a hit with families and as an educational tool in schools. That could be a hard sell if the catalog of programs available for it is cluttered with racy applications.
"At the end of the day, Apple has a brand to maintain," said Gene Munster, an analyst at Piper Jaffray who keeps a close eye on the company. "And the bottom line is they want that image to be squeaky clean."
The iPad will run the same applications that work on the iPhone and iPod Touch, which demonstrated that consumers were willing to pay for software that turned their devices into gaming machines, e-readers and navigation systems.
"The reality is that the iPad is going to be a big platform for apps," said Mr. Munster. "It raises the bar for Apple in terms of policing what goes into the App Store."
Last June, Apple introduced parental controls and ratings to help keep sex-themed applications away from children. But Mr. Munster said that the volume of such apps — which he estimated made up as much as 5 percent of the more than 140,000 apps in the App Store — might have surpassed a level Apple was comfortable with.
Many software developers have long complained about Apple's strict screening process and, at times, seemingly arbitrary decisions about what was acceptable in the App Store. The company's latest move, which was first reported by TechCrunch, did little to change their minds.
Fred Clarke, co-president of a small software company called On the Go Girls, which made Sexy Scratch Off, said that as of Monday all 50 of his company's applications were no longer available. They included an application in which a woman wearing a swimsuit appeared to wipe finger marks from the iPhone's screen with a rag and spray bottle.
"I'm shocked," said Mr. Clarke, who said the company had not had a problem with its applications since the first one went on sale last June. "We're showing stuff that's racier than the Disney Channel, but not by much."
Mr. Clarke said his company had been earning thousands of dollars a day from the App Store.
"It's very hard to go from making a good living to zero," he said. "This goes farther than sexy content. For developers, how do you know you aren't going to invest thousands into a business only to find out one day you've been cut off?"
Mr. Clarke said the company would still continue to develop applications for the iPhone and iPod Touch, but would explore alternative platforms, including Google's Android.
Mr. Schiller said Apple had to prioritize its customers. "We obviously care about developers, but in the end have to put the needs of the kids and parents first," he said.
Not all developers were critical of Apple's stance. Wally Chang, founder of Donoma Games, which does not make sexual applications, said he welcomed the changes. He said he hoped the culling of the catalog would improve the visibility of lesser-known apps.
There just seems to be too many of these really simple applications that do nothing but show pictures of girls in bikinis or in suggestive, adult poses," he said. "It's cluttering up the App Store."
Mr. Chang acknowledged that Apple's policies were a little opaque at times.
"Apple needs to be more transparent in how they are applying their policies and communicate that to developers," he said. "Sports Illustrated still has an application available. How come that hasn't been pulled?"
Indeed, a Sports Illustrated application tied to its annual swimsuit issue was still available for download on Monday, as was one from Playboy.
When asked about the Sports Illustrated app, Mr. Schiller said Apple took the source and intent of an app into consideration. "The difference is this is a well-known company with previously published material available broadly in a well-accepted format," he said.
Some developers and analysts wonder if the Android Market, Google's version of the App Store, will end up becoming a haven for sexually themed applications. The store's programs work only on phones running Android, which so far are much less popular than Apple's products.
A Google representative said the company wanted to "reduce friction and remove barriers that make it difficult for developers to make apps available to users." To that end, Android applications are treated similarly to YouTube videos, which are not screened before they are posted. Apps can be removed if they violate various policies, and users can flag material that they deem inappropriate, giving guidance to others.
Daniel Klaus, who recently co-created a multimillion-dollar fund to foster the development of applications for the iPad, said Apple had challenges ahead of it.
"It's an incredibly fine line they have to walk to keep the developers happy and at the same time grow the ecosystem," Mr. Klaus said. "It's going to be very interesting to see how they continue do that while clamping down on some of the areas that are not in line with the direction they want to go."
Source: nytimes.com written by Jenna Wortham