Tom Binns collection for Alice in Wonderland
Jeweller Tom Binns is not one to shy away from a challenge, so when he was approached to create an Alice In Wonderland-inspired collection he threw himself in to the research.
"I read the book and some articles on the psychology of the story," Binns explained, "and what Alice means as a character to adults and what she means as a character to children. It is totally different as a child's imagination is something us adults used to have, but have forgotten."
"The story is full of very iconic images," he went on, "so it wasn't difficult to find symbols that represent the stories – like the Mad Hatter's top hat and the watch, as time is a big reference point for the story. In fact, every scene in the book has something iconic that would represent it from start to finish."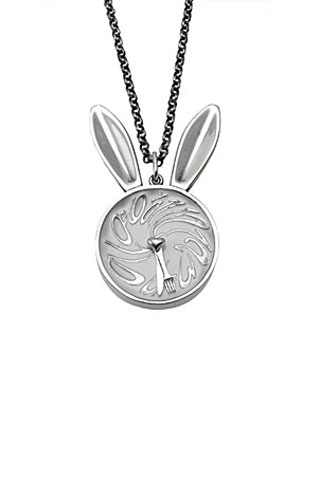 Binns focused on five main characters or episodes as a framework for his designs: the White Queen, the Mad Hatter, the Red Queen, the Tea Party and the Cheshire Cat. Binns created 40 pieces although he admits "I could have easily made 200," some of which will be available from the Selfridges Wonder Room.
And if he could be any Disney character?
"Jiminy Cricket!"
Source: vogue.co.uk